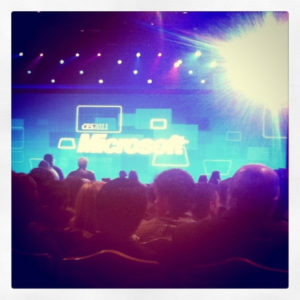 I'm reblogging my post over on the NBCU at CES site here on our website for posterity sake.
After sitting through the Microsoft keynote, I can say for certain that they have some great things ahead in 2011 including a tablet & laptop device that I might mediately order tonight.
Steve Ballmer focused the crowd on their coverage of TVs (via the Xbox), phones, and PCs. 2010 saw a lot of progress with the Xbox 360, Xbox Live and Kinect. With the addition of the Zune marketplace and Kinect you now have hand and voice controls of music and movies to go along with the obvious Xbox gaming platform.
With the addition of Netflix, Hulu Plus and ESPN3.com you now have access to movies, TV shows and sports all through the Xbox. One thing not mentioned was that each of those services require paid subscriptions, so buyer beware.
The Windows 7 phone has been launched with 9 different phones, by 60 mobile operators, in 30 countries. They demoed some cut scenes from Xbox Live games on the phone, all of which looked fun but several appear to be "me too" apps compared to Apple's app store options. Competition in the mobile marketplace is a good thing and proof of that comes in some things not seen on an iPhone. Live tiles on the lock and home screens give you quick access to the most important info (# of emails, texts, voicemails, etc) so you van glance and go. A physical camera button that works even when the phone is locked allows you to go from pocket to picture to post in seconds.
Their last segment on PCs showed some hot gadetry in the form of an Asus dual touchscreen laptop and a Samsung Sliding 7 Series PC that is a laptop the converts into a tablet. So, if you want to get some large format Nintendo DS action, the Asus machine is for you. If you're like me then the Samsung device will let you have the office power of a laptop plus the kick-up-your-heels comfort of a tablet. I'll be getting my hands on that later today and possibly putting through an order on Amazon.com!
Now I'm off to the rest of CES, but stay tuned to the NBCU coverage via Twitter (@NBCUCES), Facebook (NBCUCES), and here at http://NBCUatCES.com.
(Blogged from my iPhone.)