I'm reblogging my post from an internal NBCU site here on our website for posterity sake.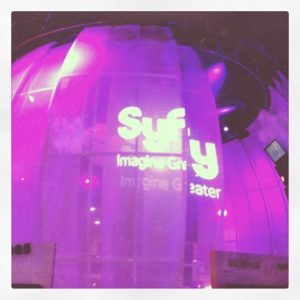 The 2011 International Consumer Electronics Show (CES) just wrapped in chilly Las Vegas and two topics are worth noting: 3D & tablets. On top of those two major highlights you'll see different form factors, different operating systems, different user interfaces and different application marketplaces which equates to a myriad of options for consumers and a headache for content creators.
3D TV
TV manufacturers are making heavy investments in 3D across several areas: displays, Blu-ray players, & cameras. The conversation between Active & Passive 3D heated up even further with TV manufactures staking their preference on each side of the fence with LG & VIZIO on the Passive side and Panasonic, Samsung, Sony, and Sharp on the Active side. The issues with viewing angles, refresh rates & flicker seen in the 3D TVs in 2010 have improved and the resulting 2D quality is astounding. While the various TV application marketplaces used different standards, there were some similar apps across the ecosystems: Facebook, Twitter, Netflix, YouTube, Pandora. Sony demoed their consumer-grade 3D camera (3D Bloggie HD) that allows consumers to shoot their own 3D footage that can then be watched; it should be noted that the quality is very much entry-level and nowhere near the quality that broadcast networks or film studios are capable of with their 3D cameras, but an interesting option for taping your child's upcoming birthday party.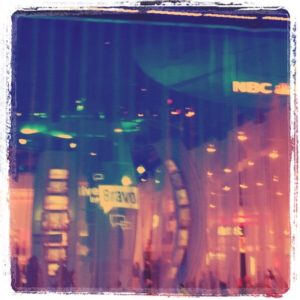 Tablets
In 2010, netbooks were all the rage; in 2011, you couldn't avoid the proliferation of tablets and their corresponding peripheral devices. The main positioning that tablet manufacturers are using to market their devices are that they'll be used in conjunction with watching TV. Some, like the Panasonic VIERA tablet only have a function when viewing TV (and in that case, only with a VIERA Connect-compatible TV). The crowd favorite seems to be a toss-up between the Motorola Xoom and the Blackberry Playbook with a slight edge to the Xoom for being a more open ecosystem. The Xoom features Android version 3.0 (aka Honeycomb) that was specifically designed for tablets, has a well-integrated experience, and appears ready to take advantage of Motorola's Media To Go home broadcasting feature to display content from your DVR or live TV on the Xoom tablet. The Playbook, built on Blackberry's own OS, has the ability to authenticate with a Blackberry device that's in-range and display email & other data related to the synced users account; otherwise it has all the same functionalities as the Xoom minus the home broadcasting options. None of the tablets on display are expected to upstage the iPad, but there will be some competition as the fight to be #2 begins.
Comcast-Samsung Partnership
Brian Roberts showed up at the Samsung keynote to show that Comcast will be partnering with them on the video portion of Samsung's cloud-based platform to store, share & play content. Brian also displayed the Xfinity TV app for the Galaxy Tab, how it turns the tablet into a guide, video player, and remote, & noted that they'll be adding the feature to watch live TV on the tablet and social media features soon. Samsung Smart TVs will have access to Comcast's VOD library and you can switch between the tablet & TV and it'll pick up where you left off. Samsung's TVs will support Flash and Adobe AIR will be the technology behind the cross-platform, multiscreen applications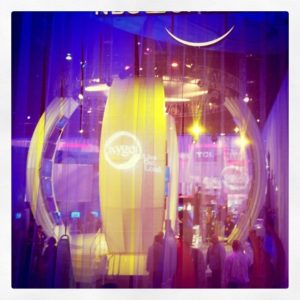 The NBCU Booth
The NBCU booth focused on Syfy, Bravo & Oxygen on successive days as well as hosting a five-seat hub for bloggers, a live set for CNBC & MSNBC, a staged control room for consumers to see "how the sausage is made", a group of six hanging wicker chairs with iPad's displaying many NBCU apps, and a simple information booth. Oh, and a giant sphere who's various panels could move independently to open & close to display the various networks showcase concept of the day. Thursday was Syfy's day to shine and they used the space to display the first playable demo of the RIFT game. The makers of RIFT gave a short talk on the gameplay in the center of the Syfy sphere, were accompanied by an appropriately dressed Asha from the Telara saga, and consumers could sample the gameplay on the kiosks circling the sphere. Friday was Bravo's day to take control and Top Chef's Richard Blais turned popcorn, liquid nitrogen, and a blowtorch into a tasty spherical treat. They also had some of their famous Housewives on-hand for interviews and photo ops. The weekend saw Oxygen putting their Live Out Loud label on the line with video-taped karaoke that consumers could later download from the Oxygen website as well as a live interview with the host of The Aubrey O'Day Project. More from the NBCU booth can be found on the NBCU at CES website.
Other Highlights
Some other highlights include autostereo (glasses-free) 3D technology from several manufacturers, a convertible laptop-tablet from Samsung featuring Windows 7, a dual touchscreen laptop from Acer featuring Windows 7, Avatar Kinect from Microsoft that allows for chatting via Kinect online personas, as well as Microsoft and several partners displaying functioning System on a Chip (SoC) hardware designs.
Many thanks to NBCU for the opportunity to be here in Vegas as I've enjoyed my entire CES experience. I hope to come back next year and provide updates to my blog readers as well as co-workers at NBCU!