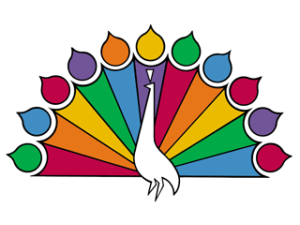 As part of the Media Money Makers program track, I sat in on a quick presentation from some familiar faces: the NBC.com executive team. The "From Broadband to Big Time: The NBC Digital Model" presentation from Vivi Zigler (President, NBCU Digital Entertainment), Steve Andrade (GM and SVP, Digital Development, NBC.com), and Nick Johnson (VP, Digital Media Sales, NBCU) touched on several popular campaigns with shows & sponsors in 2010.
The Microsoft sponsorship of the School Pride webisodes let people nominate local schools to win a computer lab makeover with Windows 7. The HP sponsorship of The Office social challenge had fans display a show-themed posted in their office to earn Fan It points (which can then be redeemed for physical & virtual goods). The Bud Light sponsorship of Late Night With Jimmy Fallon centered on the world premiere telecast of "Stones in Exile" documentary and exclusive Rolling Stones content on the Fallon website. The Turbo Tax sponsorship was a cross-platform social media play that has occurred for three straight years and included on-air vignettes, custom expert guides, sweepstakes and a live treasure hunt. The Dove sponsorship of the Good2Go mobile campaign reached across several NBCUniversal sites, generates awareness of the Dove "go fresh" brand message and creates engagement with busy moms on the go with continually updated content.
They keep content and sponsorships relevant and meaningful to their users by reading show scripts in advance to identify potential integrations, they work with digital agencies outside of the Upfront to see what they'd like to see included. NBC.com owns the content created for advertisers (eg. webisodes), all NBCU brands have significant digital teams, and some brands come to them while others they search out highlighting the solutions NBC.com offers. All in all, a quick and interesting insight into how they interact with major advertisers and how that affects their planning and strategies for their year. Let's see what they come back with at CES 2012 in terms of success in 2011!
Many thanks to NBCU for the opportunity to be here in Vegas, I hope to post again this weekend with some additional company & product reviews.