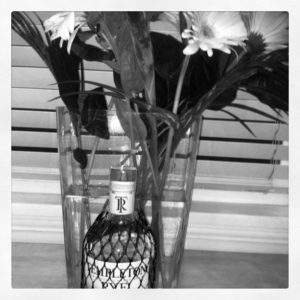 So, this time last year I set a couple goals for myself for the year and now its time to go back and see how I did as well as set some more goals for this coming year.
1) Be the best father, husband & friend I can be.
Well, I have to say that while fatherhood is certainly a job, it's one that I wouldn't trade away and every day with Finley brings such joy to me. I'd like to think that I scored pretty well on the best father and husband bit, but I probably could have done a better job keeping in touch with friends (and family) who aren't out here in LA. I'll give myself a B on this one due to the somewhat lack in keeping in touch with friends. So, I think I've got an idea on goal #1 for 2011-2012.
2) Blog regularly.
By a rough count, I got twenty-five or so posts up in the last year. That's bearly two per month and they tend to be grouped in bunches. I've got a stash of notes for posts I want to put up, so I may need to be more aggressive on this goal in the coming year. Again, this sounds like a B level effort.
3) Read 6 books.
Well, I certainly crapped out on this one. I read my fair share of the magazines I subscribe to, but books? Nope, didn't really get near reading six. D effort, way to go.
4) Make something.
Yeah, hmmm, I think I struck out on this one too. E effort? Damn, this whole "grading my goals" isn't looking so good right now.
5) Get my fighting weight to under 200lbs.
Well, I did manage to buy a scale at some point last year so I know how my weight has trended. Unfortunately it hasn't managed to get under (or frankly, near) 200lbs. Looks like another E. We joined the YMCA at some point last year, so I may need to reconsider the amount of time I'm spending there.
6) Participate in 6 races.
Bah, this isn't looking good at all. And no, I'm not going to settle for "well, I just had a kid so give me a break". E effort. *sigh*
7) Homebrew.
Well for Pete's sake, I definitely bit off more than I could chew. I kept looking at the Mr. Beer kit, but never did anything with it. We definitely juiced some fruit & veggies a couple of times and bottled them for the weeks following, but nothing close to home brewing. E.
8) Go to church.
Ok, this one I know I've done extremely well at. We're now regular members at Visitation Catholic Church and even when we're away we manage to catch a service somewhere. On top of that, I've started going through the RCIA process at Visitation with the goal of becoming a become full members of the Roman Catholic Church. That way we can go to church and receive communion as a family. This one definitely comes in at an A+.
9) Vegas.
Ok, I made it to Vegas, but only as part of a work trip to CES. I went out and gambled a bit, but didn't really have what I'd call a "Vegas experience". So, I'll put this one down as a B- and will have to see about getting back for a personal trip later this year maybe.
10) Enjoy SoCal, enjoy life.
Ok, I definitely take advantage of living out here. Bonfires at night, beach on the weekend, enjoying being outside with Finley at night in the "winter". I could probably spend a bit more time outdoors, but we're certainly taking advantage of our options. I'll mark this one as a B- as there's certainly some more we could be doing outside in SoCal.
Ok, so what does that leave me at? B, B, D, E, E, E, E, A+, B-, B-. Doing some rough, middle school, math gives me an overall grade around C-, ouch. Sounds like I either need to tone down the goals a bit or do a better job of keeping them in mind and working to attain them. Let's not go easy on me, I'm going to aim for the latter.
So, goals for the coming year?
1) Be the best father, husband, brother/son/etc. & friend I can be.
2) Update website regularly via blog posts, picture galleries & videos.
3) Reduce back catalog of unread magazines to under 5.
4) Make something.
5) Get my fighting weight to under 200lbs.
6) Participate in 6 races.
7) Homebrew.
8) Continue going to church & RCIA.
9) Travel more (locally: CA coast, Vegas; afar: Hawaii, London).
10) Enjoy SoCal, enjoy life.
There you have it, my 2011-2012 goals. I'm hoping those of you out there reading this blog will help hold me accountable for them and smack me when I'm not doing a good job on them.
I've setup a Birthday Giving page on DonorsChoose.org, won't you consider making a tax-deductible donation to some worthy causes I've picked out? And if you don't find anything interesting in my list, please search the site and find something that does interest you. Consider that a birthday gift to me, thanks!
Ok, so now on to the birthday weekend. It's a bit raining in the forecast, but I'm hoping to get in some triathlon practice for a race next weekend at UCLA and get Finley to a park to go for her first ride on a swing set. Maybe even start some homebrew and enjoy a bonfire?!?!