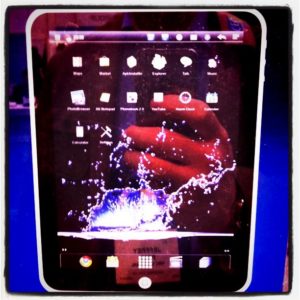 My last session of the weekend was the "Tables: A New Era of Mobile Computing" from Ben Bajarin (Director Consumer Technology, Creative Strategies). Ben had done some research and was essentially reporting his market view of tablets and things to focus on to be successful.
Ben is estimating 46-48 million tablet sales in 2011 and falling into the Lean Backward category (tablets used to consumer media & browse the internet) compared to the Lean Forward category (PCs used to producer content & perform work). When developing a tablet manufacturers must take into account shared and personal experiences; multi-user abilities to login and have secure access as well as personal access to your own apps, content and media. A good example of a multi-purpose device are Apple's iPad, Motorola's Xoom and RIM's Playbook. An example of a use-case specific tablet are the Nook Color and Galaxy Tab.>
The "Apple model" is used by Apple, RIM and Palm and is part of a proprietary ecosystem. Content is a sunk cost, services drive loyalty, and all devices in the ecosystem work together as well as separately.
The "Android model" is open, customizable, and using the Android ecosystem. There are less hardware-loyal consumers, but they use Google services. Manufacturers need to figure out how to add value on top of Google/Android. The Motorola Atrix is a good example of added value and differentiation and the HTC Sense UI is another good differentiation to the Android ecosystem.
Success in the tablet market depends on hardware innovation, differentiation, software ecosystem & developers, services, personal cloud among other aspects. You need to know your consumer, integrate value added experiences, invest in differentiation, and integrate & develop services. Tablet vendors want to get back to owning the consumer instead of the mobile operator (e.g., "pay as you go" model).
Microsoft is desperate to get across this ecosystem. They need to find holes in Android and exploit there. It sounds like Windows 8 will be fully integrated across all devices (PC, phone, tablet) which begs the question, is Windows 7 considered Windows Me part 2?
Ethnographic research started with Age groups, but moved to Use Cases (Navigation, Media, etc.). Prices will follow netbook pricing, $199 price point will do very well, but prices will come down. The bulk of sales will be in the US, then UK with some in Korea & China (aka, developed markets). Early evidence shows consumer demand for magazine experiences, but consumer and business (including education) should be viewed as two niches of users.
Many thanks to NBCU for the opportunity to be here in Vegas, I hope to post again this weekend with some additional company & product reviews.