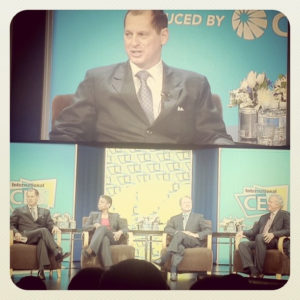 Day two started by stumbling into the press line for the Innovation Power Panel when all I was really looking for was the breakfast buffet line (how's that for luck?). The panel was moderated by CEA President & CEO Gary Shapiro and included the following blue chip heavyweights as panelists: Ursula Burns (chairman & CEO of Xerox Corporation), John Chambers (chairman & CEO of Cisco), and Jeffrey Immelt (chairman & CEO of GE). While I've seen Jeff in person a couple of times and online and via webcasts many times doing GE/NBCU town halls, this was a much different perspective. It wasn't Jeff as troop leader, it was Jeff as business luminary dispensing with a wealth of knowledge on the business landscape domestically and internationally.
The main topic was that the economy was down, Washington DC is a mess, and that innovators and entrepreneurs need to lead the charge back. Gary asked each panelist to quickly summarize how they felt; Ursula went with optimistic & nervous, John noted that we're at an inflection point in regard to education & infrastructure, and Jeff talked about how the rest of the world was moving faster than the US. Jeff continued noting that China isn't standing still, Germany came out of the recession stronger by focusing on exports "morning to night" as well as a R&D and job creation. He feels that the US needs to focus on technology & innovation in education.
Ursula graded our K-12 school system at D-, but the university level received an A- and as "probably the best in the world". K-12 isn't in the top 20, meanwhile India & China are improving by leaps and bounds. John added his concern that some state institutions might lose their edge because of state funding issues. Jeff continued that we need to set ambitious goals and got wonky with Six Sigma and mentioning the need to pick five X's to move the Y. There are 1.5 million graduates in China a year while the US graduates more sports therapists then engineers (with a quip that there's nothing wrong with a good sports massage).
Ursula mentioned that its not a fight with China, India, & Germany, but a focus on improving the US. The economic downturn made it easier to demonize non-US entities (especially on top of 9/11) but we need to do a better job coordinating between the business & government communities. Immigration use to encourage people to come and start companies in the US, but that's no longer the case and that needs to change. Government policies discourage hiring Americans, but there's progress and its moving towards encouragement. The main concerns focused on the US tax, immigration, & export policies.
The US is only one out of five countries (with the other four being small countries) double tax via overseas & local taxes. The unfortunate reality is that jobs go where the markets are and based on the US policies its not wise to hire heavily in the US. Jeff noted, however, that the days of labor arbitrage are over; it takes two hours to make a fridge, so he'll do it in the US instead of Mexico; there's only a 10% increase for US-based call centers so we'll do that in the future now. John finished with admitting the government has a complex equation with about six variables, but if we address each variable logically then we'll make a drastic improvement across the board.
As a summary, they stated that we used to have around eighteen of the top twenty companies in the US, but that we're now at five and going to zero. In order to truly create wealth again in the US, we need to focus on technology & innovation.
The full video of the panel is available here.
As a side note, just about every (no, scratch that, EVERY) panel discussion or keynote used Taio Cruz's Dynamite as an intro. And while it's a great song, it gets old pretty quick when you see it mashed up against CEA graphics multiple times a day. Here's hoping next year shows CEA branching out into multiple artists or at least multiple songs from one artist. Spread the royalty love guys!
Many thanks to NBCU for the opportunity to be here in Vegas, I hope to post again this weekend with some additional company & product reviews.
UPDATE: Interestingly enough, thirteen days later President Obama named Jeff Immelt to chair his new President's Council on Jobs and Competitiveness.