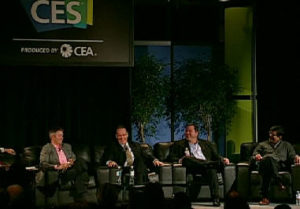 The last panel session that I sat through on Friday (my brain sponge was absorbent, but damn today was a lot) was one titled "Consumer 360 – Gadgets Everywhere and the Role of Wireless" and moderated by Rajeev Chand (Managing Director and Senior Equity Research Analyst, Wireless, Rutberg & Company). The panelists included Anand Chandrasekher (SVP Intel, GM Ultra Mobility Group, Intel), John Donovan (Chief Technology Officer, AT&T), Bill Ogle (Chief Marketing Officer, Motorola Mobility), and the sparkplug of the group Robert Stephens (CTO, Best Buy).
The panelists that 2011 will go down as the year of tablets with the main question being what is the N number of devices that the populace will support; sounds like it will be 3-4 and eventually whittle down to 1-2. From a cell carrier perspective we're no longer an enterprise Blackberry voice & data users, but now you can pick up a tablet at a friends house, authenticate and get billed for it on your bill. Users appear to be willing to give up some data & privacy to access services that benefit or help them. Netflix and the Kindle are good examples of seamless experiences. Devices will adapt because of apps, but not likely because of the app being the main use.
As a side note, a great comment was let loose: "A user manual is a list of design failures". I just LOVE that, it'll certainly make its way into my cliches at work!
Since I was so engrossed in the panel discussion and didn't take great notes, I recommend you check out the video from the session and enjoy it yourself:
Many thanks to NBCU for the opportunity to be here in Vegas, I hope to post again this weekend with some additional company & product reviews.